You are stepping onto a new beginning, a new life, when you decide to get married. You unify with your special someone and promise to love each other till the last day. The day when you celebrate this union, the wedding day, is one of the days you will not forget easily. Therefore, you want to look your best, feel your best and do your best that day. ''No pressure.''

The wedding madness is a well-known phenomenon in which the person to get married goes crazy due to the stress of planning and the upcoming life change. While that stress could be sweet, it may affect your judgments badly. Would you be able to pick the most suitable dress and accessories when you are under such stress? Well, this blog post is here for you to clear your mind and make the right choices while picking your pieces of jewelry.
---
---
During the time in which you choose your jewelry, you should try not to use an excessive number of pieces and details, and take into consideration the neckline, sleeves and the color of your dress. The most important thing is that not mixing a lot of colors and metals, as well as keeping it as minimalistic as possible. Finally, you should not forget that this is your day, and should wear anything that you will feel happy in. (And no, you cannot go to your wedding in your pajamas.)
Here are some tips for you to decide how to combine your jewelry with your wedding gown:
1) Keep It Simple
On her wedding day, almost everybody goes for the 'princess look' in which they look royal and queenly. And in order to do that, you should take a look at the real princesses and how they handled their wedding costumes.
---
---
Do you see a pattern? Both Meghan Markle and Kate Middleton went for simple yet graceful styles. If you look at their pieces of jewelry, you will see that they avoided using too many pieces. Kate Middleton is not even wearing a bracelet. Therefore, we can conclude that the royals do not overdo it.
Likewise, you should also avoid using too much accessorizing while styling your wedding dress. On your special day, what should shine is primarily you and your wedding costume. In other words, if you try to ornament yourself excessively, your grace will fly away.
---
---
To keep away from doing that, you should take ''Less is more'' as your motto. Try using less assertive pieces of jewelry, and forward your energy to choosing the perfect dress and make-up. Combining pieces of jewelry is almost the hardest part, therefore reducing the number of them will lift the weight off of your shoulders.
2) The Neckline of Your Dress Matters
The neckline of your dress is one of the primary determinants when it comes to deciding what jewelry to wear. If the neckline is higher and the line ends right at the bottom of your neck or covering your whole neck; it is wiser not to wear a necklace. Likewise, if there are too many ornaments on the neckline, you should keep away from using a necklace with it. Two details on the top of each other will only kill one another, and will not look good at all. Instead, you can go for drop earrings to complete your look.
---
---
You may want to use necklaces and chokers if your dress has a strapless neckline, a V-neckline or simply a lower one.
Harmony of the Neckline and Your Necklace
As I indicated above, the neckline of your dress will determine whether you should use a necklace or not. If you have a low neckline that does not cover much of your chest, you may want to use a statement necklace that does not outshine your wedding dress. If your dress is very simple, you can actually add some character to it in this way.
---
---
You should consider the fact that your necklace will gather the biggest attention if you wear a low-neckline. Therefore, choose wisely.
---
---
When it comes to wearing a high neckline bridal gown, in %99 of cases, you should refrain from using a necklace at all. If you force yourself to wear one in order to feel complete, you will only hurt your look. Accessorizing does not mean that you should use every accessory possible. Instead, using the right pieces will increase the quality of style immensely.
Harmony of the Neckline and Earrings
Unlike necklaces, earrings go with almost any neckline model. Yet, there is still a chance that some statement earrings may compete with your dress and outshine it. That would be a situation that we don't desire.
If your dress is extremely pompous and ornate, there is no reason to try to accessorize it with an equally exhaustive piece of jewelry. If your hair, make-up, and the dress are already shouting out loud that they are there; why would you add another scream to the play?
---
---
If you want to play safe, you can go with diamond or pearl earrings to add the glamour you need. As they are never out-of-date and almost always add enough grace to your queenly look, they are the common choice of many brides.
If you want to use different gemstones rather than diamonds, you can create a unique look depending on how you combine them. The trick is to keep it as minimal as possible though. Do not try to use huge gemstones, because as the stone gets bigger, the grace goes down.
---
---
A perfect example could be the emerald earrings of Princess Eugenie during her wedding. Different than the traditional look, she combined her tiara, earrings, and bouquet with the choice of emerald color.
Don't forget to wear your hair according to your earrings, or vice versa. If you decide to keep your hair loose, then your minimal earrings may not be seen. The safest choice here could be having an up-do hair, and make your earrings shine.
3) Take a Look at Your Sleeves Before Choosing a Bracelet
Sleeves matter while choosing what kind of bracelet you are going to wear. Thankfully, most of the wedding dresses do not even have sleeves; yet, if you are going for a conservative look and ordered a long-sleeved wedding dress, the combination differs.
No matter the design of your dress (unless it has long sleeves), it is better to use simple yet glamorous bracelets to complete your look. Whether it is a cuff bracelet, or a tennis one, choose one that will not steal too much attention from your dress.
---
---
Nevertheless, if you are wearing a long-sleeved wedding dress, then it is best not to wear a bracelet. If you try to wear a bracelet over your sleeves, it may look chavette instead.
---
---
Not to mention, you may want to wear the bracelet on your right wrist, so that it does not steal the charm of your wedding ring that you are wearing on your left hand.
4) Use Jewelry to Highlight Your Dress
Your pieces of jewelry should not overshadow your dress and overall style; instead, they should complement them. I know that this sounds confusing, as you may not really figure out whether your jewelry is too much or not. Well, follow your gut feeling here. Does your jewelry focus the attention on your dress while shining delicately itself? Does it increase your overall glamour and elegance without stealing the show? If the answer is yes, you managed to gracefully combine your accessories with your gown. Try to increase the level of your elegance game with your highlighted jewelry.
5) When In Doubt, Bring Out Your Pearl Game
It is thought that pearls draw riches and luck as well as give security. Recognized for their soothing impact, pearls can enhance your tranquility, bolster friendships and maintain security. It is also said that the pearl expresses the owner's beauty, kindness, honesty, and commitment.
---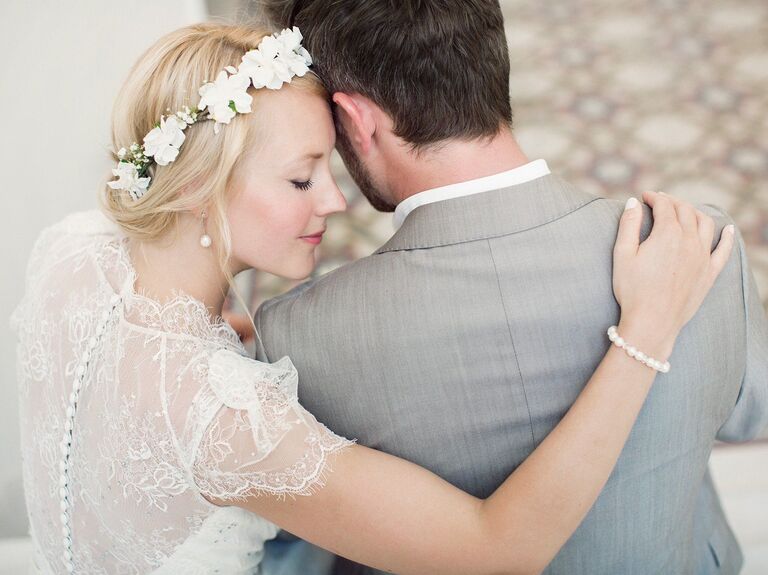 ---
Using a gem that symbolizes beauty and commitment sounds like a great idea, does not it? It must be as many brides around the world often use pearls on their wedding day. By using pearls, they attain a more elegant, royal and warmer look; and increase their overall mood.
---
---
If you think that pearls could only be in white, you are mistaken. There are various shapes and colors of pearls, as they are more industrialized in the jewelry business, and you can find almost any pearl that suits your taste. For example, there are pink, ivory, black, golden pearls for you to buy and combine with your precious outfit.
6) Do not Use Too Many Colors in Your Bridal Jewelry
If you are going for an elegant look, it is better to use a single color or two colors that blend in amazingly. As the latter is very risky if you do not know exactly which two colors would mix perfectly, I recommend you not to try it at all.
Trying too many colors will only make you look chavette and confused in general. Not to mention, they will exhaust the way you look, kill the charm of your dress and yourself.
7) Do not Use Too Many Metals Together
I guess our main word for your special day should be 'simplicity.' Just like I advised you not to mix many colors, you should also avoid blending in too many metals together. Likewise, do not go further than 2 different metals not to look ill-dressed.
I know that not everyone wants to wear plain white, therefore it creates confusion while choosing the right piece of jewelry; and, you may have your questions about what metal to choose according to the color of your dress. Here are some options:
A) White Dress: If you are wearing a clear, plain white wedding dress, your decision could be easier than other brides wearing different colors. An optic white outfit would go great with shiny metals such as a white gold set of bridal jewelry. Not to mention, you can always combine it with diamonds or white pearls.
---
---

B) Champagne Dress: If you decided to wear a champagne wedding dress, which is quite popular around these days, then the color of your dress is somehow yellowish-golden. Therefore, you can go for gold jewelry to complete your look. Yet, if you find it somehow risky, there are also great champagne-colors jewelry, such as champagne pearls. You would be both playing safe, and combine your dress greatly.
---
---
C) Ivory Dress: You may not expect this but an ivory dress looks great with yellow gold jewelry. Somehow, the gold color brightens up the suffocative color of ivory. If you find that too risky, you can always go for ivory-colors jewelry, pearls, and diamonds.
---
---
D) Silver Dress: If you chose to wear a silver wedding gown, the best metal to use is again silver. Yet, if you do not want to go fully-silver, another color that goes great with a silver dress is blue-grey. Using blue-grey jewelry lightens up the silver dress, and makes it more magical.
---
---
It is not easy to find a full set of blue-grey bridal jewelry, but if you can combine them well, you will look amazing.
E) Blush Dress: If your wedding gown is a blush one, you can combine it with other layers of pink and rose. The best metal that would go well with a blush dress is rose gold metal, yet you can use other pinky gemstones. I would recommend pink pearls for their grace and glamour, too. Combining pink and pink will make you look more romantic than ever!
---
---
8) Be Yourself
Do not forget that this is your day and your preferences prevail any other concern. Do you want a Star Wars themed wedding? So, be it. Do you want to wear Converse under your wedding gown? Why not. The same applies to your jewelry pick. In the end, you have the final say and if you think your jewelry goes great with your dress, no matter what others say, follow your gut!
---
---
The most important thing is that you are happy on this day, and no one should take that away from you. You are free to follow the recommendations I have provided in this blog post, and you are also free not to follow them.

Go, make some memories! 😊
Recommended Products on Amazon
---
AMYJANE Elegant Jewelry Set for Women – Silver Teardrop Clear Cubic Zirconia Crystal Rhinestone Drop Earrings and Necklace Bridal Jewelry Sets
---
. https://www.amazon.com/Crystal-Jewelry-Set-Women-Bridesmaids/dp/B07RN4S2N4/ref=sr_1_12?dchild=1&keywords=wedding+jewelry&qid=1591372097&sr=8-12
---
Wordless Love Teardrop Pear Shape CZ Necklace Pierced, White
---
. https://www.amazon.com/Wordless-Love-Teardrop-Necklace-Earrings/dp/B01IAWNY34/ref=sr_1_9?dchild=1&keywords=wedding+jewelry&qid=1591372097&sr=8-9
---
Topwholesalejewel Silver Crystal Round Dangle Earrings & Round Rhinestone Bling Connection Necklace Jewelry Set
---
. https://www.amazon.com/Topwholesalejewel-Earrings-Rhinestone-Connection-Necklace/dp/B00D7SCRV2/ref=sr_1_10?dchild=1&keywords=wedding+jewelry&qid=1591372097&sr=8-10
---
Aukmla Bride Wedding Hair Vine Rhinestone Bridal Hair Piece Flower Headband Crystals Hair Accessories Golden Wire Hair Jewelry
---
. https://www.amazon.com/Aukmla-Rhinestone-Headband-Crystals-Accessories/dp/B07YJHKMVB/ref=sr_1_14?dchild=1&keywords=wedding+jewelry&qid=1591372097&sr=8-14
---
Unicra Bride Wedding Crystal Hair Pins Bridal Headpieces Wedding Hair Pieces Accessories
---
. https://www.amazon.com/Unicra-Wedding-Crystal-Headpieces-Accessories/dp/B07HF7KYWT/ref=sr_1_24?crid=1MWIKZ8FYO6EA&dchild=1&keywords=bridal+wedding+hair+pins&qid=1591372174&sprefix=bridal+wedding+hai%2Caps%2C323&sr=8-24
---
Hadskiss Jewelry Set for Women, Necklace Dangle Earrings Bracelet Set, White Gold Plated Jewelry Set with White AAA Cubic Zirconia, Allergy Free
---
. https://www.amazon.com/Hadskiss-Bridesmaid-Necklace-Earrings-Bracelet/dp/B07VRPLDG9/ref=sxin_7_ac_d_rm?ac_md=1-1-d2VkZGluZyBqZXdlbHJ5IHNldA%3D%3D-ac_d_rm&cv_ct_cx=bridal+jewelry+set&dchild=1&keywords=bridal+jewelry+set&pd_rd_i=B07VRPLDG9&pd_rd_r=0481185a-7f60-4b2b-89c6-356b25214dd8&pd_rd_w=CfBF3&pd_rd_wg=03geR&pf_rd_p=a0516f22-66df-4efd-8b9a-279a864d1512&pf_rd_r=DMQC8GR0X2S6H0SYS8XV&psc=1&qid=1591372228&sr=1-2-12d4272d-8adb-4121-8624-135149aa9081