Since its first creation in ancient Egypt, jewelry boxes have had many types and forms, yet we can define them as an object whose objective it is to store jewelry and valuable products related to jewelry.
Jewelry boxes were used back in Ancient Egypt, Roman times, Victorian era… They always served the purpose of storing and safeguarding priceless gems, and they symbolized status and wealth. The boxes were mostly used by the royals and rich families, therefore the commoners did not really have them. Thanks to the Industrial Revolution, the mass production of jewelry started and relatively-lower classes started to buy them, and look for a place to store them. Today, almost everyone has the ability to buy jewelry, whether precious or not, and they need a place to keep them as their belongings start to grow in number. Nobody likes untangling the mess they would create.
---
---
If you do not want to face the carnage of tangled necklaces and bracelets every day, you should get a jewelry box right away! Thankfully, there are many types of jewelry boxes for everyone's tastes.
Types of Jewellery Box
Even though it is called a 'jewelry box', it does not have to have the shape of a box at all. In reality, there are various types of jewelry boxes suitable for each of your needs. You can get jewelry boxes that are small enough to fit a sole ring, as well as get an armoire that you can fit all your pieces into.
Keepsakes
A box for the storage of memories of a specific moment, event or individual. It is usually used for keeping the memories of important activities such as birthdays, matrimonies, or anniversaries.
---
---
Most of the times though, these are the boxes that we keep small gifts or pictures given to us by our exes.
Jewelry Chests
Jewelry chests are the most common type of jewelry boxes, as you can see one at every house. Generally, they are designed to be large, so that you can fill it in with all your jewelry.
You can put all different kinds of jewelry inside this type of chest, as there are compartments designed uniquely for each piece.
---
---
As they are usually big, you need to find a jewelry chest that is suitable for the design of your bedroom, or wherever you are planning to place it. Luckily, there are various different types, from very antique ones to cool and modern ones.
Jewelry Armoires
A jewelry chest will not be enough for you? Well then, let me introduce you to jewelry armoires. These are even bigger than any type of jewelry chest, and they can be considered as an item of furniture due to their size.
---
---
If you have a lot of necklaces and have a tangling problem with them, you may want to buy an armoire more than other people. The best part of this furniture is that you can actually hang your necklaces one by one, rather than leave them lying in a box. Even though there are compartments in the other smaller boxes, the necklace has the superpower to tangle itself while laying there, too. Therefore, jewelry armoire will be the safest choice for necklace lovers and users.
Wall Jewellery Armoires
If you do not want to place a huge armoire in the middle of your bedroom, there is also the possibility of getting one which you can insert to the wall. Just like standard jewelry armoires, you can hang your necklaces, bracelets, and chains inside this armoire, and keep them away from tangling each other.
---
---
All in all, they look even better than usual armoires, and they mostly come with a long mirror with them. Therefore, you can try on many pieces of jewelry while checking yourself out in the mirror.
Travel Jewelry Cases
Taking your jewelry with you while going on a trip is one of the most tricky situations on a holiday. While you want to look your best and bring your accessories with you, you often find yourself untangling numerous necklaces and bracelets for hours that you put in your luggage. In order to prevent this from happening, you can consider buying a travel jewelry case to keep them in line.
---
---
You do not have to take less jewelry to avoid the trouble of tangling anymore.
Musical Jewelry Boxes
Even though musical jewelry boxes mostly considered as a gift to the kids, there are in fact many types of musical boxes that you would not think of. The usual musical jewelry box is a simple box that plays music as you open it, and has a dancing ballerina figure in the middle. Yet, you can find interesting designs of musical jewelry boxes that can immensely surprise you.
---
---
For example, in the pictures, you can see a crown-shaped musical jewelry box and an antique Viennese one that was sold for $7000.
---
---
The only problem with this type is that they are rather small than other jewelry boxes. Maybe that is why they are preferred more as a gift, than personal use.
Ring Boxes
These are the boxes that we see at every jewelry store. Whenever you want to shop for a ring at a jewelry store, you will see that the seller takes them out of a box, in which the rings are placed into a soft base. Well, this is a smaller version of it that you can use at your home.
---
---
There are also small ring boxes for storing a single ring. These are not very useful unless you are giving someone a gift or asking someone to marry you. And, they all come in different styles and colors. If you want to store your favorite ring apart from your other rings, you can buy some modern and creative special ring boxes online.
---
---
For example, you can get a vintage ring box to store a family heirloom. It will look amazing and look even more worthy than it already is.
Watch Boxes
If you are a watch freak, and you like to buy as many watches as possible, you might need an elegant box to put them all in. Depending on how many watches you have, you can decide to get a larger box than usual. Most of these boxes are designed to have 6 watches.
---
---
These could be also good if you are a collector, or simply you like to show off. In that case, you can get a watch box with a great and unique design and place it somewhere with its cover open, where everyone can see it!
Wooden Jewelry Boxes
If you are into more vintage boxes, a wooden box will give you a nostalgic vibe. Not only they look great and come in different styles, but also they come in all sizes!
---
---
Moreover, if you are into painting boxes, you can paint your wooden jewelry box over and over again whenever you get bored. Just do not damage it by overdoing it.
Valet Boxes
A valet box is a type of box that is mainly used by men. These boxes store pieces of jewelry and other types of accessories and tools such as the car keys.
---
---
In this way, rather than spreading all the jewelry and useful pieces around, they get to organize their things in order.
Jewelry Rolls
Jewelry rolls are made from a piece of fabric or leather with pockets to place your jewelry in. As you open the roll, it becomes flat and you can insert or take out whatever you need from it. The good side of it is that they will never be broken and they keep your jewelry safer especially when you travel, or just need some small store that you can place in your purse.
---
---
Moreover, it is so easy to make one for yourself rather than buying it. You can check all those 'Do It Yourself' pages and find out how! 😊
Vanity Boxes
A tiny cabinet generally made of valuable metal or jewelry; which contains a woman's mirror, cosmetics, and other little toiletries.
---
---
Even though they are mostly used for make-up materials, you can put your jewelry inside them as well. Or better, why not both?
How to Organize Your Jewelry Box
You have decided what type of jewelry box to get, yet still, do not know how to sort out your pieces of jewelry? Well, let me help you with the mess.
The first step is to organize your jewelry according to their types. In order to do that, empty your box and bring together all of your accessories. Make space on your bed or whatever flat place you have near, and start untangling those necklaces and bracelets already! I am pretty sure that will take a while but it's worth the trouble. After you manage to do that, put all your necklaces on one side, bracelets on the other side, and group your earrings and rings as well. I would not suggest grouping them according to their colors or the type of metal, as that would create a new mess to solve.
---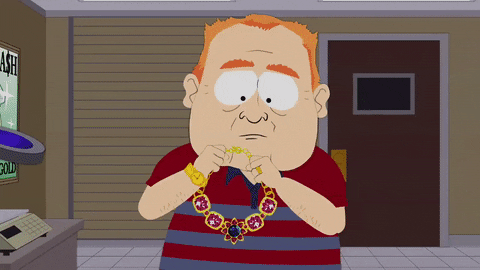 ---
Now, you need to place them into the box. First of all, the whole idea behind the jewelry box is that you need to keep your pieces separated from each other so that they would not tangle. If your jewelry box does not have enough compartments, you may want to create your own separators from cardboard or other solid stuff to put in between the pieces of jewelry. If you have some old credit cards, you can cut them in half, for example.
Likewise, if you do not have a big jewelry box and worry that your jewelry might get intertwined, you can attach your small earrings onto a piece of fabric and avoid losing them inside the box. You can also have a piece of fabric to wrap your necklaces with.
When it comes to your rings, if you have too many of them, you can place them on something like round binder clip, or spirals used in the notebooks. Even though it might get harder to take one out, they would stay organized. Then maybe, this method could be used for the rings that you do not use a lot.
---
---
If you have some pieces that you use constantly, then putting them into the box and taking them out every day might get your jewelry box get messy. Therefore, it is wise to have those pieces outside the box and place them somewhere else. For this type of situations, people prefer to buy jewelry holders so that those pieces would not create a mess or an unpleasant view. They hang their necklaces and other pieces on a ballerina, a tree figure, etc. and create an authentic view.
---
---
If you do not want a decorative jewelry holder as you do not have extra space on your vanity stand, you can choose to get a jewelry holder on your wall instead. These are great for people who love and buy a lot of long necklaces because they will be able to hang them on the wall and reach them easily.
---
---
Taking out the pieces of jewelry that you use the most might be applicable to those pieces which you almost never use. If you do not have enough space in your jewelry box and have some jewelry pieces that you only use at festivals and on special occasions, you can also take those out and replace them back into your closet in a small box.
Another tip I should mention is that keeping your extremely precious jewelry somewhere safe. If a thief enters your house, a jewelry box will be one of the first places he will look at. I would try to hide them better and put them somewhere safer so that you would not lose thousands of money if your jewelry gets stolen.
Lastly, you may want to check and reorganize your jewelry box monthly, as it will surely get messy there. Rather than waiting for the total chaos to happen before reorganizing them again, you can choose not to wait for things to get worse and order your box before it is too late.
Recommended Products on Amazon
---
KLOUD City Two-Layer Fiber Organizer Jewelry Box with Interior Display and Lock
---
. https://www.amazon.com/KLOUD-City-Two-Layer-Jewelry-Organizer/dp/B01GO3LDWA/ref=sxin_7_ac_d_pm?ac_md=1-0-TWVub3MgZGUgVVMkNTA%3D-ac_d_pm&cv_ct_cx=jewelry+box&dchild=1&keywords=jewelry+box&pd_rd_i=B01GO3LDWA&pd_rd_r=0d02f252-d7b3-49bb-9303-32e5c8d24bf5&pd_rd_w=YEAkY&pd_rd_wg=XS0Zz&pf_rd_p=56b8ab64-8f22-43d4-8319-4b30f162b5e2&pf_rd_r=1JVX14P3PB6706CZ2YYE&psc=1&qid=1591721744&sr=1-1-22d05c05-1231-4126-b7c4-3e7a9c0027d0
---
Vlando Classic Organizer Jewelry Box in Crocodile Leather. Gift Box to Display Necklaces and Rings, Leather, L
---
. https://www.amazon.com/Vlando-Jewelry-Leather-Organizer-Pink-Cross/dp/B017CM6SMC/ref=sxin_7_ac_d_pm?ac_md=2-1-RGUgVVMkNTAgYSBVUyQ3NQ%3D%3D-ac_d_pm&cv_ct_cx=jewelry+box&dchild=1&keywords=jewelry+box&pd_rd_i=B017CM6SMC&pd_rd_r=0d02f252-d7b3-49bb-9303-32e5c8d24bf5&pd_rd_w=YEAkY&pd_rd_wg=XS0Zz&pf_rd_p=56b8ab64-8f22-43d4-8319-4b30f162b5e2&pf_rd_r=1JVX14P3PB6706CZ2YYE&psc=1&qid=1591721744&sr=1-2-22d05c05-1231-4126-b7c4-3e7a9c0027d0
---
Beehives and Honey Patricia Glass Engraved Mahogany Jewelry Chest Jewelry Box
---
. https://www.amazon.com/Hives-Honey-Patricia-Mahogany-Jewelry/dp/B0119IBJII/ref=sxin_7_ac_d_pm?ac_md=3-2-TcOhcyBkZSBVUyQ3NQ%3D%3D-ac_d_pm&cv_ct_cx=jewelry+box&dchild=1&keywords=jewelry+box&pd_rd_i=B0119IBJII&pd_rd_r=0d02f252-d7b3-49bb-9303-32e5c8d24bf5&pd_rd_w=YEAkY&pd_rd_wg=XS0Zz&pf_rd_p=56b8ab64-8f22-43d4-8319-4b30f162b5e2&pf_rd_r=1JVX14P3PB6706CZ2YYE&psc=1&qid=1591721744&sr=1-3-22d05c05-1231-4126-b7c4-3e7a9c0027d0
---
RR ROUND RICH DESIGN Kids Musical Jewelry Box for Girls with Drawer and Jewelry Set with Ballerina Theme – Swan Lake Tune Pink
---
. https://www.amazon.com/RR-Joyero-musical-ni%C3%B1as-bonito/dp/B07K8C41PT/ref=sxin_9_pb?cv_ct_cx=jewelry%20box&dchild=1&keywords=jewelry%20box&language=en_US&pd_rd_i=B07K8C41PT&pd_rd_r=0d02f252-d7b3-49bb-9303-32e5c8d24bf5&pd_rd_w=wncAE&pd_rd_wg=XS0Zz&pf_rd_p=b3cd7f63-3626-4f93-9f2c-8730ae1a4efd&pf_rd_r=1JVX14P3PB6706CZ2YYE&qid=1591721744&sr=1-1-8065ff8c-2587-4a7f-b8da-1df8b2563c11
---
Weiai Acrylic Jewelry Box with 3 Drawers, Velvet Jewelry Organizer, Earrings and Rings, Necklaces, Bracelets, Gift Box for Women, and Girls
---
. https://www.amazon.com/Acrylic-Jewellery-Organizer-Necklaces-Bracelets/dp/B07MGZS7KW/ref=sr_1_29?dchild=1&keywords=jewelry+box&qid=1591721744&sr=8-29